601 Eagle – #1 in Singapore – Made in Belgium
A two hundred year history
The story of 601 Eagle starts in a town in Belgium, called Turnhout. Turnhout has a two hundred year old tradition of making playing cards. Till today, the welcome sign of Turnhout boasts playing cards and streets have names like Harten and Jokerstraat (Hearts and Joker street). Turhout also has a card museum, which is well worth visiting.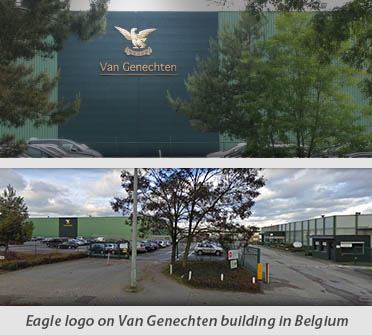 601 Eagle originates from the companies Brepols, Van Genechten and Biermans, who have roots in a two hundred year tradition of making playing cards. In 1970 the three companies decided to join forces and combine their card making devisions into a new company: 'Cartamundi', latin for 'cards of(for) the world'. And sharing the joy of playing cards all over the world is exactly what Cartamundi set out to do. At present, Cartamundi, with it's headoffice in Turnhout, Belgium has a workforce of more than 1200 people, 9 factories, another 9 sales offices and distributors world wide. Cartamundi Asia Pacific Pte Ltd was established in Singapore in 2002 to give a better service to its Asia-Pacific customers.
The eagle, symbol of the brand 601 Eagle originates in Belgium: it was designed in 1888 by order of the Belgian company Van Genechten, in particular for the use on Chinese playing cards. In 1972-1973, during an economic mission to Singapore, Malaya Trading Co, an agency in Singapore and Cartamundi came to a distribution agreement for Eagle playing cards. It is a common tradition in Asian countries to have numbers incorporated into the brand names and therefore, the number 601 was added. Hence, the brand '601 Eagle' was created. It was registered by Malaya Trading Co, later going by the name of Eadida Trading Co. In 2012 the brand was taken over again by Cartamundi.
601 Eagle is the most popular playing card brand in Singapore and is known among card lovers and Baccarat players for it's strong and long lasting quality.